For Moma, Daddy, Laney Brager, and I, March 8, 2016 through March 11, 2016 (Laney and I's spring break) was spent in the windy city of Chicago (actually windy, not just a cute nickname). We packed in a lot of activities, so here is a brief recap of our four days along with some Luci commentary.
Day 1:
- Arrived in Chicago at noon. My brother Cori told us about this app called Lyft, which is a taxi service. You just get on your phone, pinpoint a location, and within a couple of minutes a driver will pull up and take you anywhere. Because we were first time users we got $5 off of each of our first ten rides! It was quite magical. We took a Lyft to our hotel, the Embassy Suites (511 North Colombus Drive, I had that memorized for cab drivers). The hotel seemed pretty uneconomical; there was a big hole in the center, but the views from our 13th floor room were great and the elevators were crazy fast.
Big Hole
We were nice and hungry by this time, so we set off on the streets towards the seventh floor of Macy's. Pretty odd sounding, right? Well, in the food court, there was a little Mexican joint owned by chef Rick Bayless, known for his PBS series
Mexico: One Plate at a Time.
It was authentic and delicious, best roasted corn tamale I've ever had. Next we went to the famous bean and played on the nearby playground. It was a kids dream, they had birds nest swings and big metal slides (metal slides
scare me, but Laney and my dad enjoyed it!) We walked out to the lake and dipped our feet in the frigid water before taking a Lyft to Chinatown. We ate at what seemed to be an authentic Chinese restaurant, and they had over 1000 items on their menu!!! (the items were numbered) Food was good, but not much different than the Chinese I'm used to having. That evening Laney and I swam and did exercise things in the exercise room, and went to WHOLE FOODS! If people go to heaven when they die, then I will go to Whole Foods. If I become a full vegan, they grocery shopping there would be awesome. The night ended with pizza delivery.
Day 2:
Today we had continental breakfast at the hotel, best selection I have ever seen. They were making homemade omelets with fancy ingredients plus all of your standard breakfast foods except higher quality (thick crunchy bacon vs thin wiggly bacon). Then we went to the Briar Street Theater and watched the Blue Man Group perform. It was really awesome, interactive and fun and mindblowing!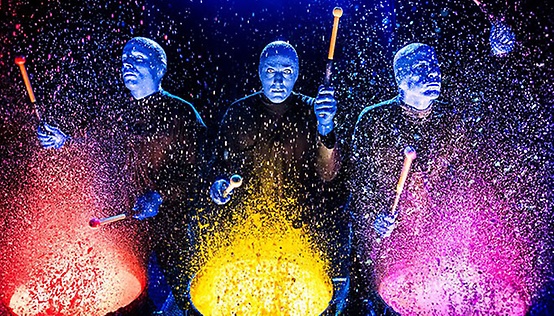 We ate lunch at Pequods, an epic deep dish restaurant. We each got a personal pizza and wow was it filling and delicious.Then we walked to the Lincoln Park zoo. Zoo's are kind of hard. It seems like showing people these wild animals would make them want to contribute to conservation efforts more, but whenever you see the wild animals they are sad and you just want to ship them back to the wild. If you have any thoughts on zoos, let me know! The part of the zoo that I will remember most is the gorillas. If you didn't believe in evolution before, it is hard not to after watching a family of gorillas interact. They are so human like; the parents tickle the babies and they laugh, the babies show off for the parents, a bored gorilla sits slouched tapping his hands. And they have thumbs! We walked along the lake afterwards and took in a beautiful view of Chicago before trekking a few miles (a mile more than we should have thanks to me, oops) back to our hotel. That evening Laney and I took a Lyft and went to a Nepalese restaurant and shared the vegetarian special. It was different and inspired me to cook Nepalese food.
Day 3:
Today we went to the famous Navy Pier. It was quiet because of the chilly weather, but did not disappoint. I had a famous Chicago style hot dog with all of the fixin's and we watched the short documentary Tornado Alley in the IMAX theater. Following this, we headed to the almighty Adler Planetarium.
We watched a cosmic wonders show in the dome then took about 2 hours looking at all of the exhibits: Telescopes and a history of astronomy, the universe and time, our solar system, and mission moon. Laney and I were in heaven, and my parents enjoyed it too! Looks like my career has changed to astronaut. We took a lift to Portillos, a little joint serving up Italian beef sandwiches. That night we all went to the arcade down the street and played games for an hour and a half, lots of laughs and frustration and driving off of the tracks on our computer motorcycles. We ordered in sushi around midnight and Laney and I watched Moonrise Kingdom.
Day 4:
We woke up and went to the top of Willis Tower, the tallest building in the Western Hemisphere. It was a clear day so the views were fantastic, and of course it was exhilarating to walk out onto the skydeck. Back down at the bottom was a row of food trucks, and my family is kind of obsessed with food trucks. We got a grilled cheese with macaroni and cheese on it and a jerk chicken burrito. The we walked to Lou Malnati's, another deep dish pizza restaurant. Laney and I split the "Lou" which was deep dish with spinach, onions, and mushrooms. It was so cheesy and crunchy and melty.
Then we went to the Chicago Goodwill and some new clothes, there were many more fashionable clothes and name brands than I am used to seeing in Goodwill. After this we had to head back to the airport, and back home we came!
Overall, Chicago was memorable and a good time. I'm glad Laney got to spend some time with my family, it is hard to understand the Keller's dynamic until you vacation with us. Till next time, Chicago!